Enjoy winter time! Big vector set. You will get: 48 winter cards (EPS 10 + JPG) 9 seamless patterns (EPS 10 + JPG) Illustration of winter active people (EPS 10 + JPG) If you have any questions regarding my products.
Perfect as gifts for your family, friends and colleagues on Christmas, product design, and any other creative projects you have in mind.

Christmas. Patterns & Lettering
Christmas and New Year are my favorite holidays, hope you love them too! With this graphic set you can congratulate your loved ones. Need wrapping paper patterns or elements to create a greeting card? You will find them here! Also this set is perfect for invite or greeting cards, Christmas home decor, fabrics, scrapbooking, social media and blogging, gift paper and more.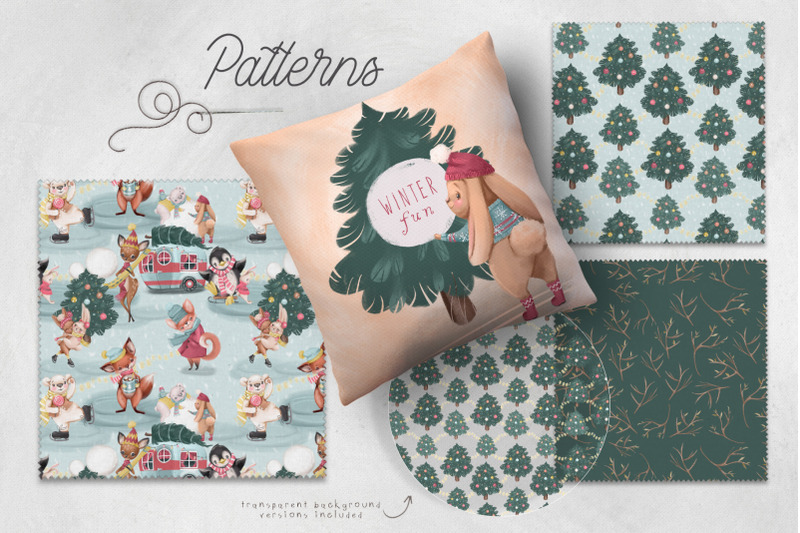 Winter Fun – Cute animals, elements & patterns! Let it snow! Winter activities of adorable animals, cute elements and seamless patterns – create your own unique winter scenes easy and fast! What you will get? 8 animals illustrations – bear, bunnies and deer on ice skates, little bear with bunny playing with snowball, fox with hot cacao, deer with ski, cute pinguin and bunny on sleigh and cute fox in winter coat 18 elements for your designs – truck with tree, christmas tree, trees and branches, snowball, bush with snow, ice, falling snow overlay, lights, snow corner, textured background, frames & teal 3 seamless patterns (transparent background versions are included) Have fun!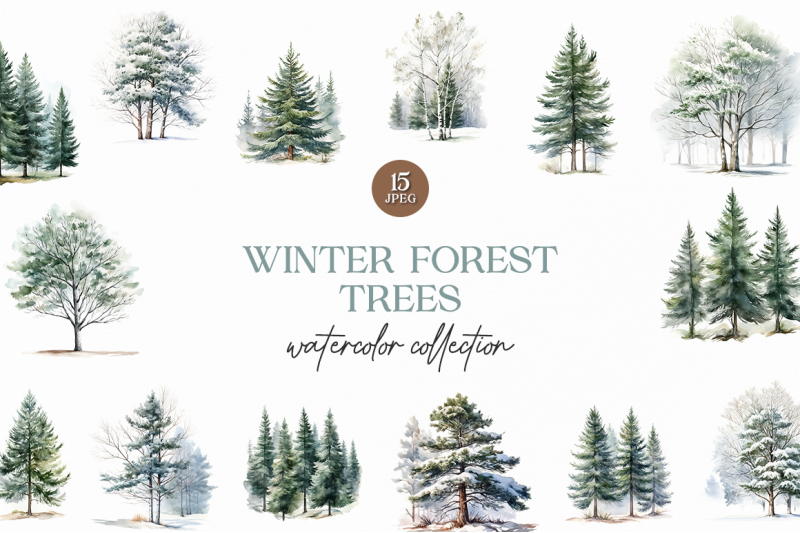 Winter Forest Trees – Explore the enchanting beauty of winter with our Winter Forest Tree Watercolour collection. This set features 15 exquisite illustrations of snowy forest landscapes, showcasing the serene charm of winter trees in watercolor. Perfect for adding a touch of seasonal magic to your projects, from holiday cards to home decor. Capture the essence of a frosty woodland with these stunning artworks.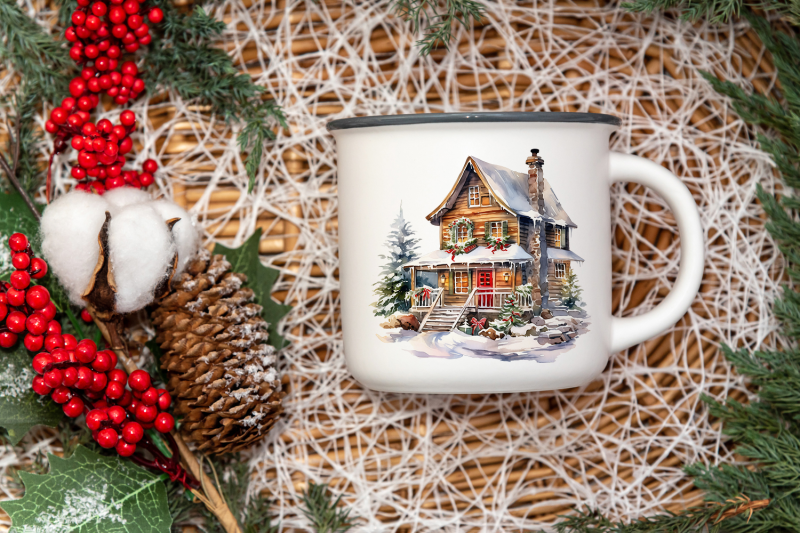 Christmas Houses
Christmas houses clipart. Colorful, festive and fun! This high quality Village Watercolor clipart set (10 elements) will be perfect for your Christmas Cards, DIY projects, Paper designs, web design, Scrapbooking ect. You can print this clipart elements on any surfaces and items, for example t-shirts, baby clothes, bed linen, mugs, textile totes ect.Deer. Digital illustration. This product includes: – 10 PNG file High quality file with a resolution of 300 dpi. Can be used for a variety of designs like invitations, sublimation, sticker design, website designs and more. Enjoy!

Christmas Patterns
A stylish, modern set of 40 Christmas Seamless Vector Patterns!
So easy to customize with endless creative outcomes! They are ideal for Christmas and New Years Greetings Cards, Wallpapers, Website backgrounds, Wrapping papers, fabric, crafts and so much more!