Mimi Thorisson for Anthropologie Ceramic Round Serving Platter

Intricate and vibrant detailing adorns this stoneware platter, giving any table an elegant feel. Designed exclusively for Anthropologie, Mimi Thorisson's Italian Hours collection offers an oh-so-inviting tablescape setting for friends and family to celebrate together this harvest season. Inspired by the tradition of Italian pottery art, each cherished piece is characterised by rustic charm, brilliant colours, and intricate motifs. for Anthropologie Ceramic Round Serving Platter by Mimi Thorisson Size: Child
---
Add up some style to your home. Make your home a better place.
Christmas Tableware
| View More
---
Inspired by traditional Dutch Delftware and French toile fabrics, this tableware boasts motifs of florals and bees that were handpainted by print designers, and then carefully applied to softly ribbed stoneware. The high-caliber material results in a brighter white hue, allowing the stunning blue tones to pop in contrast. As versatile as it is beautiful, this high-quality china lends any table an elevated feel – perfect for both everyday use and special occasions. Abi Cereal Bowls, Set of 4 by Anthropologie Size: S/4 cereal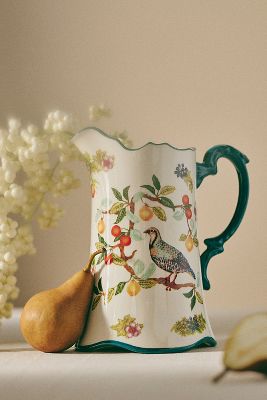 Lou Rota Twelve Days of Christmas Pitcher
Whether used for mulled wine, eggnog, or other beloved holiday drinks, this pitcher is a festive and charming addition to your tablescape. Designed by Lou Rota exclusively for Anthropologie, this collection is a seasonal romp through nature's hedgerows – in all their festive glory. She has dreamt up illustrations of charming creatures and branches laden with ripened fruits and rich-hued florals, putting her own unique spin on the age-old carol, " Twelve Days of Christmas." Twelve Days of Christmas Pitcher by Lou Rota at Anthropologie
Artcome Japanese Matcha Tea Set, Matcha Bowl with Pouring Spout, Tea Tray, Matcha Whisk, Ceramic Whisk Holder, Matcha Powder Caddy, Handmade Matcha Ceremony Kit For Japanese Tea Ceremony (10Pcs)
Matcha whisk, tea tray, tea scoop, matcha bowl with pouring spout, matcha powder caddy, ceramic whisk holder, tea cloth, tea cloth holder, scoop holder, matcha powder strainer. Our products do not include matcha powder.